15 June 2020 – Andrew Shedlock, as the CEO of the DHS Foundation, is a well-known figure at Durban High School and in the school's community. Before taking up his position in 2019, he enjoyed a successful career as an international waterpolo player before turning to cricket and making his mark as a coach on professional and schools' level players alike.
As a young boy at DPHS, he excelled as a swimmer and represented Natal Schools in the pool in 1973 and 1974. He also had aspirations of success on the cricket field.
When it came time for high school, he moved to DHS where he continued swimming and playing cricket, which was a challenge at times. In a recent interview, he said: "In those days the swimming galas used to take place on a Saturday morning, so I, on the odd occasion, would go to a gala and swim (I was the number one swimmer in my age group), and from the gala I used to go to cricket matches. That happened in second form (grade 8) and third form (grade 9). In third form, I swam for Natal Schools."
The following year, he was appointed captain of the DHS under-15 A cricket team, but then something occurred that was to have a huge impact on his life. He went to watch his brother playing a waterpolo match and when his brother's team found themselves short of a player they asked Andrew to play. He did.
"Being swimming fit, it was fine. I jumped in the pool and I enjoyed the game and I said 'this is me'. I had one or two cricket games left and I said 'at the end of this I am giving up cricket'. I went and finished my cricket games."
As the return of summer sports approached after winter, he started swimming again and told the waterpolo coach he wanted to play waterpolo. He was then selected for a Stayers tour of the Eastern Cape.
"Now, everything was flying and I was training and I understood that I was giving up cricket. The last week prior to the tour I was called into the Headmaster's office, who was then the legendary Des 'Spike' Thompson.
"He turned around to me – and every time I go into that office now I have these visions of standing there in front of him – and from where I stood you could see the whole school from the windows, and he said to me 'Shedlock, you are not allowed to give up cricket. The major sports at this school are cricket and rugby. They take preference and I am not allowing you to play waterpolo. I want you to go from office to the cricket practice (because I was captaining the under-15 A team at the time) and that is it! Don't ask questions.
"I said, 'but sir, I don't have my cricket kit with me'. He said, 'that's fine. You go to waterpolo today. But when you come back in the fourth term, I expect you to play cricket'. I went from there to the waterpolo practice and went on the waterpolo tour. Then, when I came back in the fourth term, I said to the waterpolo coach, Mr Nico Lamprecht, 'What must I do?' and he told me to go to waterpolo.
"I played first team in the fourth form, which in those days was unheard of. I was still under-15. I went on and played SA Schools in 1980 and I captained SA Schools in 1981. I never looked back.
Andrew captained the South African Schools waterpolo team of 1981.
"One day I asked Nico what happened with my situation at DHS. He said he went to the Headmaster after the tour and said to him, 'Mr Thompson, what takes preference, first team waterpolo or under-15 A cricket?', so Spike told him it was obviously first team waterpolo. Nico said 'Shedlock's in the first team'. That's how he got around me being able to give up cricket.
"Funnily enough, I became the reference, not only for DHS, but also for other schools. When guys wanted to give up, they would point to Shedlock at DHS, who was able to do it. People after that used me as an example."
Andrew Shedlock and Steve la Marque proudly display their SA Schools' colours.
After school, Andrew went to Stellenbosch University. As part of his degree, he did a level two cricket coaching course. Later, when he returned to Durban, he did a level three course.
During his time at Stellenbosch, in 1986, he also represented the South African men's waterpolo team. In 1989, he completed his studies, having qualified as a biokineticists. He needed to do an internship and, fortuitously, the man he did it under was Richard Turnbull. Turnbull had earned himself a highly respected reputation and, as a result of that, was involved with both the Natal cricket and rugby teams.
While at university, Andrew was selected for the South African men's waterpolo team in 1986.
Andrew, who was living in Durban, drove up to Pietermaritzburg every day to work with Turnbull, who, besides running a successful gym, Body Dynamics, where a number of other biokineticists were doing their internships, also worked in the Sports Office at the local university. Future international cricket coach Graham Ford worked there too. When Turnbull decided to set up a Body Dynamics Gym in Durban at Collegians Club, he chose Andrew to run it.
Back in Durban, cricket again entered Andrew's life. "I got involved with the Natal cricket side. In those days, Mike Procter was the coach. Kim Hughes was the captain. There were guys like Peter Rawson, Neville Daniels, and Rob Bentley. I became friendly with Kim, and the Aussies were probably a bit more advanced than us in those days [in how they utilised sports science]. Fitness was quite a thing for him, so he used to come into the gym quite often and encouraged all the other guys to come.
"In 1990, Richard [Turnbull] worked closely with Ian MacIntosh and the Natal rugby side (which was, of course, the first year that Natal won the Currie Cup). Because Richard couldn't come to Durban that often, I used to deal with a lot of the rehabilitation of the players. That year I rehabbed Dick Muir when he injured a hamstring, Jeremy Thomson popped a shoulder, and Wahl Bartmann was another player I worked with. I did the rehab for a lot of those Natal players. Biokinetics in those days wasn't a recognised profession. It was really, really tough.
At that time, too, Andrew was still playing top level waterpolo. In fact, the next South African national team to tour internationally after the ground-breaking cricket tour of India in 1992 was the waterpolo side and it was not a gentle introduction.
"We went to a pre-Olympic waterpolo tournament in 1992 in Hungary and played against Hungary, the USA, the Netherlands, Czechoslovakia and Italy [who would go on to claim Olympic gold]," Andrew recalled. "We played against all the teams that were two months out from the Olympic Games, so they were peaking and those were their Olympic sides."
Six members of the Natal waterpolo team of 1992 were selected for the national team, including Andrew Shedlock.
By then, Andrew had also moved to the Health and Racquet Club in La Lucia. Then, Graham Ford took over from Mike Procter as Natal cricket coach.
"Because of his association with Richard at Maritzburg University, Graham wanted Richard to work with him," Andrew said. "But Richard couldn't because, being in Maritzburg, he couldn't get down to Durban all the time. So I went and helped. I used to go to practices and warm-ups for games.
"On Saturdays and Sundays, during a four-day game in Durban, I would be there and act as a fitness assistant. There were players like the legendary Malcolm Marshall, Clive Rice, Peter Rawson, and then our local talent which included Andrew Hudson, Jonty Rhodes, Lance Klusener, Shaun Pollock, Errol Stewart, Neil Johnson, Dale Benkenstein, Mark Bruyns and Doug Watson.
Being around the players so much proved to be a valuable learning experience. "In those days, you spoke cricket. Can you imagine sitting next to Marshall, Rawson, and Rice? Sometimes we would leave the ground at 19:00 or 20:00, having listened to these guys' stories until it was late."
After some time, Graham Ford asked Andrew if he would be interested in working as a full-time trainer out of the Natal Cricket Union's indoor centre. He said a gym would be added on the side. Andrew agreed to it and turned his sole focus to cricket.
It was an interesting time. Under the leadership of Malcolm Marshall, the approach of the Natal team was changing. Some players, like Marshall, were full-time professionals, while others, like Peter Rawson, Mark Logan and Errol Stewart, held down jobs, which meant different practices times for different players. In addition, a number of Natal players had to travel from the Pietermaritzburg daily to attend practices. There was a period of adjustment needed.
The Dolphins celebrate winning the Standard Bank One Day Cup in 1996/97.
It also became a valuable learning environment for Andrew. He said: "Fordie would go and throw and he would, for example, say Jonty was coming in for a net and I would throw to him. I had quite a strong arm from playing waterpolo and I got the nickname 'Wayward Wally'. Every time Fordie would coach I watched and listened. It got to the stage where guys would ask me to throw to them when Fordie was busy. I got to teach myself about the game.
"I had guys in those days, like Jonty and Andrew Hudson, while Lance [Klusener] and Polly were coming through. Often when I threw to them, those guys knew their games, so they taught me what to look for. I learned and developed."
In 1998, Graham Ford joined the Proteas as an assistant coach to Bob Woolmer. When he did that, he asked Andrew to take over the Cricket Academy at Kingsmead. Andrew subsequently took charge there and started coaching the under-19 team, while staying involved with the senior side. During that period he also built up a particularly strong relationship with another former DHS boy, Lance Klusener, and Jonty Rhodes.
Andrew hanging out with Lance Klusener. He built up a particularly close relationship with the DHS Old Boy during his time with Natal cricket.
"They would have no one else coach them, no one else throw to them other than me," Andrew said. "I spent a lot of time with Lance prior to the 1999 Cricket World Cup, and also with Jonty."
Klusener, of course, went on to be named Player of the Tournament at the Cricket World Cup after a string of devastating match-winning performances. The South African challenge, sadly, ended in the semi-finals when, after playing to a thrilling tie against Australia, they were eliminated from the tournament.
"Lance and Jonty taught me a lot," Andrew said. "I would get a phone call from Lance from the West Indies, for example, and he would ask if I had watched him bat and how did he do. If I didn't watch, he would shit all over me.
"Through the course of time, people like [DHS old boy] Hashim Amla came through the system. [DHS old boy] Imraan Khan came through the system, and people like Mark Bruyns, Doug Watson, and [Zimbabwe international all-rounder] Neil Johnson. Natal was a formidable team. It was great to be involved with them."
Change is inevitable, though, and one day, in 2003, it announced itself. "A letter got slipped under my door to say thank you very much, but your services are no longer required. I was a bit upset and I tried to fight it, but I was fighting a losing battle."
Resetting, that same year, in March, he set up the Shedders Cricket Academy. It has been in operation ever since. Andrew explained: "I started at DPHS. From there I moved and coached from home. Then I ended up at Northwood for 10 years." There he served the school as a professional coach, assisting all teams. He was subsequently appointed the Director of Cricket and also coached the 1st team.
Gareth  Orr (right) was one of the first boys Andrew coached when he started his cricket academy in 2003. Gareth went to Maritzburg College, played for KZN Inland, and then went to study at the University of Pretoria. When he decided to start playing cricket again in 2020, he once more turned to Andrew for coaching.
After leaving Northwood, he moved to DHS. The Shedders Cricket Academy now operates out of DHS and, coming full circle, DPHS, where it all began.
Reflecting on his manner of work, his coaching style, and what he has to offer as a coach, Andrew said: "One advantage I've always felt I had was that I had played international sport and I knew the pressures of playing at that level.
"I feel a lot of my coaching is focused on motivation, encouragement, and positive reinforcement. Cricket is one of those sports where it is so technical that you can find a fault with every shot or ball. I try to avoid that and make it a lot more positive."
Interestingly, his coaching has also impacted on some prominent England internationals. Craig Roy, had played provincial and international waterpolo with Andrew, so when Craig's son, Jason, was starting to make his mark with Surrey he arranged for him to come out to South Africa to spend six weeks with Andrew to work on his game. It wasn't the last time Jason, who went on to earn his England colours as a hard-hitting top order batsman, sought out his coaching.
Andrew has worked closely with England international Jason Roy, the son of his former waterpolo team-mate Craig Roy.
Kevin Pietersen, too, when he was in the wilderness in Natal cricket, before his move to England where he became a mainstay of the national side, turned to Andrew for coaching and that resulted in many hours spent at Kingsmead with the pair working on Kevin's game.
Andrew also spent time coaching future England one-day international captain Eoin Morgan, and that led to one of the few regrets of his coaching career. He said: "I worked a little bit with Eoin when he came out and spent six months at Saint Henry's as a schoolboy. It was at a time that [future Proteas' assistant coach] Adrian Birrell was just finishing off as the Ireland coach and Ireland were trying to persuade Eoin Morgan to keep his Irish citizenship and play for them. I worked with him and I got offered a job at Malahide Cricket Club, which is now a test venue for Ireland cricket. You look back and wonder what if I had taken the job?"
Cricket, though, did take him abroad to the hot bed of India and it almost resulted in a position in the lucrative Indian Premier League (IPL). "I got quite involved in the Indian Cricket League (ICL), which was the one that got banned," he said. "I was coaching in that league and I had a phone call from [the first chairman and commissioner of the IPL] Lalit Modi prior to the IPL starting, but we were already down the road with the ICL. You look at those things [and wonder], but I have no regrets."
One of the true greats of the game, Sri Lankan batsman Kumar Sangakkara, with Andrew at the 2016 Masters Champions League.
Nowadays, as CEO of the DHS Foundation, Andrew has an office on the school's grounds and the Shedders Cricket Academy makes use of the High Performance Cricket Centre, coaching in and around school practices. He is no longer involved in the day-to-day running of the Academy, but takes the occasional session. He has three coaches in his employ.
Still, coaching provides him with a sense of satisfaction. "It is a lot about motivation and encouragement, about boys enjoying themselves and the time they spend with me.
"I'm very happy to coach a boy that plays in the under-11 D team and the very next session I will coach a provincial player. It's about adapting, and I get as much enjoyment out of coaching the under-11 D players as I do out of coaching first team or provincial players," he commented.
He feels encouraged and is so positive by what is currently happening at DHS. "DHS is most definitely on the up and, crucially, DHS is gaining the confidence of its Old Boys again. Boys and parents alike are now choosing DHS, where not too long ago they might not have even considered it as an option. Our academic structures are constantly improving, and our sport is again starting to compete at top levels."
"There are so many good things that are happening at DHS, for example, the introduction of Cambridge and the Nonpareil extension programme," Andrew said.
"Under the school's leadership of Tony Pinheiro and his staff, it is so pleasing to see where his team has taken the school to in such a short period of time. I am not just standing and preaching it, it is genuinely happening. The school is constantly evolving and looking for ways to improve. We all market our school with passion. We are getting there. Our numbers are up, our boarding establishment is full and as mentioned earlier, DHS now offers the Cambridge system."
While Andrew now focuses on his work with The DHS Foundation and his passion for DHS, the legacy of Shedders Cricket Academy continues in the capable hands of his son Ross (seen here on the occasion of his last match for the DHS 1st XI) and his loyal and dedicated coaches who, overseen by Andrew, continue to coach cricket with the same coaching principles of passion, hard work and positive coaching mentality.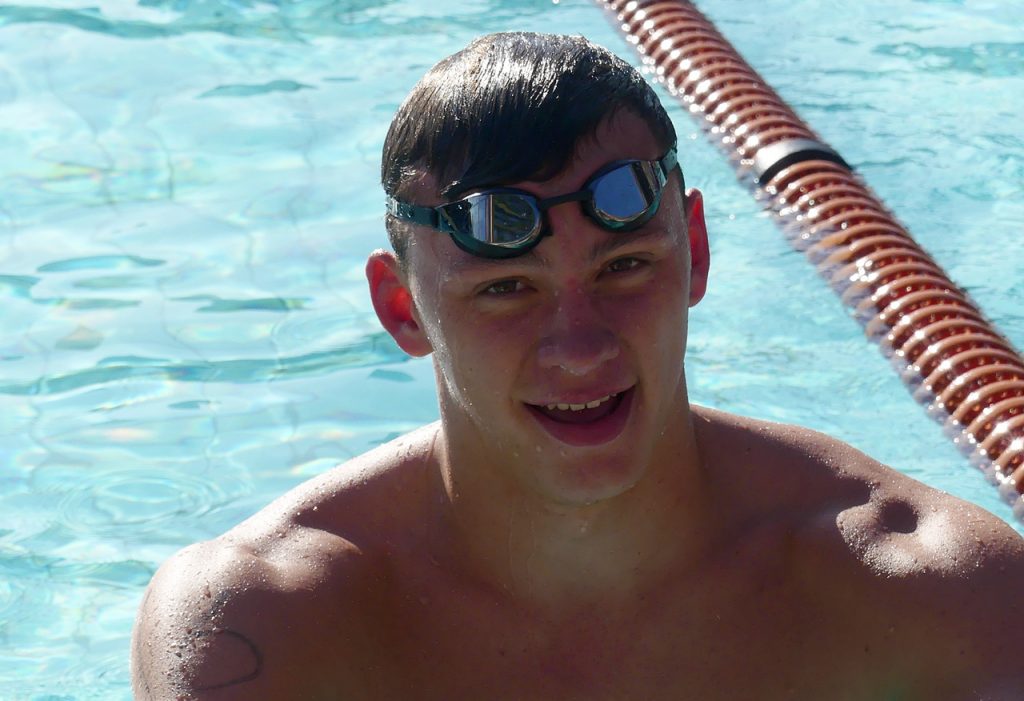 20 May 2020 – When Chad le Clos blazed his way to multiple swimming records in his time at Westville Boys' High it was reasonable to expect that they would last many decades. Yet, only a decade later, incredibly, many of his records are falling to grade 10 learner Luca Holtzhausen, writes KZN10.com's Brad Morgan.
A chat with Luca at the school, just before it closed due to Covid-19, suggested that there could be significantly more to come from the 16-year-old standout when, while discussing the demands of training, he admitted: "I will say that towards the end of last year I told myself that this is what I want to do and nothing else. Now that I have matured a bit, I have put my head down and said this is the time to really graft and really do well one day, maybe win at the Olympics."
A young man who is bettering an Olympic champion's records might have a long way to go to climb onto the top step of the Olympic podium, but he is on the right path.
The best boys' school swimming team in South Africa 
https://kzn10.com/the-best-boys-school-swimming-team-in-south-africa/
Westville dominate Durban and District Gala
https://kzn10.com/westville-dominate-durban-and-district-gala/
Luca attended Kloof Junior Primary and it was during that time that Candice Crafford, a former Olympic swimmer, saw him in action and recognised his potential. She approached Luca and his family and asked if he would like to try training with her.
"I eventually trained with her my whole junior primary career until grade three," Luca said. "She then told me to move from her 'Learn to Swim' programme to a club in Pinetown [Seagulls], which is my current club now.
At Seagulls, he showed further improvement, and during that time he also made the move from Kloof Junior Primary to Westville Senior Primary. He trained under a few coaches at Seagulls as he climbed the ladder before landing with Delon Dannhauser. When Delon made a move to Malta at the end of 2018, Luca joined Olympic swimming coach Graham Hill.
"With Graham, as soon as I joined the club and got to know all the different coaches, he was always a person that I wanted to impress," Luca said. "When I was training with Delon, Graham didn't take me. But as soon as Graham arrived at training, I would push that little bit harder so that he would notice me. He has always driven me to be the best I can be. I feel like I can train really well if he is pushing me."
Recalling his rise through the ranks, Luca said: "The first squad I was in was not that competitive, but when I moved up to Delon he saw some talent and wanted me to push myself, and he really helped me. Then, along the way I met some good swimmers, like Chad le Clos and Myles Brown, while they were swimming in the bigger squads. I was just below them with a few of my peers and age group. Just seeing them swim really fast pushed me to want to get to where they are, and to be in the squad they were in. Now, eventually, I am at that level."
During his primary school days, Luca's talent was regularly on show at galas and it didn't go unnoticed by high schools. He received a number of offers from those schools, but his choice was always going to be Westville, which his brother had attended before him.
"I was in grade seven when he was in matric, so when I got here he left. But I think from grade five, six, a few high schools offered me places, but my parents and I knew I was going to go to Westville, even if I wasn't a swimmer. Having Westville as one of the top swimming schools in the country, made it a given to go to the school, and also because of my brother having been here. We did look at offers from other schools, but it just didn't make sense not to go to Westville, and they offered a scholarship," he said.
In every way, Westville was the logical choice, Luca added: "I think this school has always been good at sport, all sports, and the academic standard is very high, and it's required of sportsmen, too. Westville does it really well, and all sports are equally embraced."
Westville Boys' High's swimming team has been unbeaten for 13 years. (Photo: Brad Morgan, KZN10.com)
Swimming has opened his eyes to opportunities and possibilities, he said. When Luca was 13, he participated in international competition for the first time, travelling to Egypt. Last year, it was the Junior World Championships in Budapest, Hungary, which he attended at 15 years of age. It made a big impression on him.
"It was an amazing experience. Just to see the pools they have there. I remember swimming my first race. I knew it would be stressful, but not as stressful as it was. When I was getting ready for the race and was on the blocks, it blew my mind. You think it's simple, but everything that happens is completely different. It's important to travel at a young age, so you get used to that and the competition."
Luca also tasted senior competition against some of the world's best swimmers in the Mare Nostrum Series, in Monaco and Cannes. Unfortunately, while he was in Monaco, Princess Charlene, a former South African OIympic swimmer and big supporter of South African swimming was in New York, but Luca did get to visit the castle.
Being at Westville, a powerhouse of school swimming in South Africa, has helped stir his competitive spirit and challenge him to be improve, Luca said.
"In grade eight, I remember breaking one of Chad le Clos' records. I didn't even know it existed, but then I broke it and people were congratulating me. I made a goal for myself that I have been breaking his records since. I challenged myself to get all the records, not only his, but all or most of the others."
Being an all-round competitor, has helped him chase them down. "I've always done all the strokes," he said, "which has made me a good individual medley [IM] swimmer, but now in the last two years I have really picked up on my freestyle swimming, so I have been doing pretty well in freestyle and IM. Just been concentrating on those, I guess. But, from time to time, it is always good to swim in other events that aren't your main events."
At present, his favourite distance is 200 metres. "I used to do everything, and it wasn't too bad. It's not that I don't enjoy the 400s, but it gets tough sometimes. Sometimes it hurts. I still train it," he said.
So what does a typical day look like? Luca explained: "I have training at a quarter-past-five in the morning. I wake up at half-past-four. My dad will make me a Future Life. Luckily he still makes it for me. I'll drink that and slowly get ready. I stay only 15 minutes away from the pool, so we'll get there about five o'clock and stretch a bit. Then, we start at a quarter-past-five, and we finish at around a quarter-to-seven, so it's about an-hour-and-a-half.
"After that, the school bus takes four or five of us to school. Then, training starts again at twenty-past-two, until about four, ten-past-four.
"I swim twice a day on Monday and Wednesday. On Tuesday and Thursday mornings I have gym. Every day of the week I am up at half-past-four, getting ready to do some sort of training. Every afternoon I train, except for Friday, when I have the afternoon off."
"By Friday afternoon, my body is absolutely shattered, so I don't have any guilt about resting."
While swimming tends to focus on the individual, school competition and being part of a team helps bring the best out of him, Luca explained: "Even for me, I sometimes swim faster than I would in an individual race in the relay, just because you have this team around you. It is a little less serious because you are racing with people. But, at the same time, you can swim really hard and have a good time."
Luca Holtzhausen, Westville Boys' High Head of Aquatics Jarred Appelgryn, and swimming captain Ian Brijlal with the winner's trophies from the Alan Burt Gala, the Nestor Pierides Inter-provincial gala, the Kwa-Zulu Natal High Schools Top 10 Gala and the Durban and Districts Gala. (Photo: Brad Morgan, KZN10.com)
Inevitably, the questions turned to the swimmers who inspire him and he mentioned three men: Michael Phelps, the man many regard at the greatest swimmer of all time; Adam Peattie, Olympic 100m breaststroke champion and world record holder; and Chad le Clos, who has blazed a trail for South African swimmers competing on the world stage.
"There is something about Adam Peaty. I follow him on Instagram and I just see a lot of hard work goes into what he does, and his results are crazy. Just seeing all the things he does motivates me, and shows me where one can get to one day.
"Chad, because he beat Michael Phelps in one of his prestige races [the 200m butterfly]. And he didn't come out of one of the best facilities. But he beat him and changed his life.
"My coach was talking to me about it the other day. I am lined up to do the same as Chad did, but in terms of Junior Worlds last year, World Short Course at the end of this year, next year is the Youth Olympics. All of these events, Chad did, and I can now follow exactly in his footsteps, and hopefully even do better."
If they take place, Luca is hoping to make the South African team for the Fina Short Course World Swimming Championships, scheduled for 15 – 20 December in Abu Dhabi. It would his first selection for the South African senior team.
With two more years at Westville still ahead of him, it's just a guess to think about the heights his swimming career is headed towards. But the trajectory is very promising. And the path has been laid out by a former Westville Boys' High swimmer, a man whose records Luca has been dismantling…